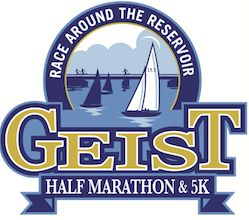 Sometimes the bear eats you.
The first half of this spring, the IU Mini, was rainy. The second, the 500 Festival Mini, was very windy. So, I was hoping for the third half marathon of the spring to make up for the bad weather of the other two. Unfortunately, this time around, the factor that gave me trouble was the heat. We have had such a mild spring for training that I found the heat and humidity to be especially challenging, despite having brought extra water with me. Runners were given good warnings to start off easy — good advice. Even so, I had a lot of difficulty preserving my energy.
During the first couple of miles felt so good to finally be moving that I did feel like I was restraining myself. Later, I realized that I should have tried harder to hold back, because I was going faster than my goal pace for the entire first 5k, when it is important not to waste energy. Maybe I was rushing to pass my family, who was waiting for me to pass them in front of Scotty's Lakehouse, where they ate breakfast after I got to wave to them. I'm glad they had a chance to have a fun breakfast, but I would like to have been able to join them!
Shortly after that point, I started to go downhill. I started feeling tired, and never seemed to be able to find any energy boost. Slowing down helped, but even that can be an effort because it requires concentration. At the halfway point, which was at the southern end of the reservoir, I threw in the towel. Courageous Drive has a rather steep, long hill, and I just could not live up to the name of the street. I took the first of several walking breaks until I reached the top of the hill. And once you take the first walk break, your pride is so shot that it's hard to keep going. After that point, it is too easy to say I can't do any more hills, and then just walk all the rest of them. Which is pretty much what I did. Oh well. At least I finished!
I was passed by a lot of kids from Belzer Middle School. These kids show up at all the local races, and it's really cool to see them, even when they blaze past you. Their parents wear bright T‑shirts and cheer loudly for their kids. I'm proud of them too, and I always wish I had started running sooner, like them. More good programs like theirs are what Indianapolis needs to get out of the unhealthy slump we're in. This morning's news cited the American College of Sports Medicine's annual list of the cities with the healthiest lifestyles, on which Indianapolis fell embarrassingly from 36th to 44th place.
While my own effort was weak, the race was well run. The medal and shirt were nice (last year's shirt was weirdly defective, with misproportioned dimensions and unmatched sleeve lengths), the volunteers were friendly and helpful, and hey, who doesn't like starting off a race with SpongeBob SquarePants waving at you from a boat?